Here is the link to the Clinton Webinar.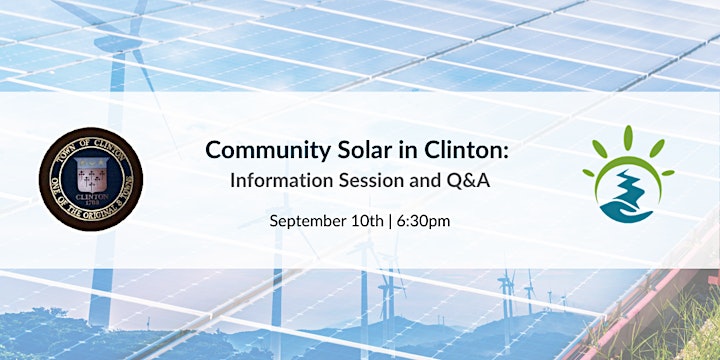 You are invited to join Town of Clinton Supervisor, Ray Oberly and the Hudson Valley Community Power team remotely on Zoom on Thursday, September 10, 2020 at 6:30pm where we will discuss the local Community Solar program and answer your questions. Join us via GoToMeeting (see below for details).
As a community, we are proud to be taking steps to combat climate change. As a complement to the Town of Clinton's recently adopted Community Choice Aggregation (CCA) program, Hudson Valley Community Power is now offering a fully vetted community solar program.
Both community solar and our CCA program work well together to save you money. As a resident (renter and owner) or a small business who enrolls in community solar you can:
Access the benefits of solar without needing to install panels on your rooftop or property
Save up to an additional 10% annually on your electricity costs
Support the development of clean, renewable electricity in New York State
Participate without risk because you may cancel without penalty at any time
This community solar program also generates money for a municipal sustainability fund—$50 per enrollment. Enroll in this community solar program to secure more personal savings, support local renewable energy, and help Clinton raise funds for sustainability purposes (e.g. solar panels and other activities).
Because there is only so much power a solar farm can generate, these community solar farms will be closed to new enrollment when they become fully subscribed–just one more reason to enroll today!
Call-in information:
Thu, Sep 10, 2020 6:30 PM – 7:30 PM (EDT)
Please join our meeting from your computer, tablet or smartphone.
https://global.gotomeeting.com/join/254377165
You can also dial in using your phone.
United States: +1 (872) 240-3311
Access Code: 254-377-165