Live Town Board Meeting: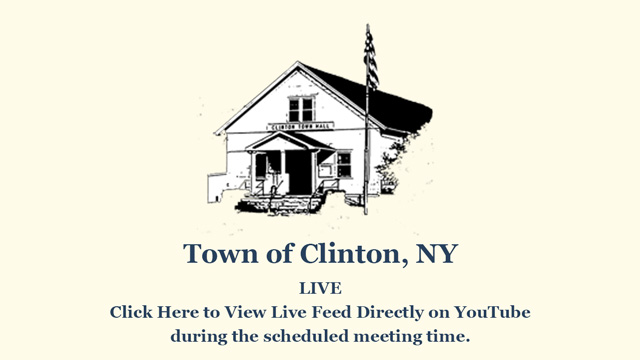 Note: YouTube has blocked embedding of live feeds into websites. You have to view these live feeds directly on YouTube from now on. We will provide the link for each meeting just before the start of each meeting.
---
For the most up to date videos, and an archive of past videos, please visit the "Town of Clinton, NY" youtube channel here.
TRANSCO ZOOM PRESENTATION LINK:
Click here for the TRANSCO presentation on December 3, 2020: https://www.ny-es.com/town-of-clinton-virtual-presentation
PRESENTATION LINK:
A detailed update on the Hudson Valley Community Power (HVCP) Community Choice Aggregation (CCA) program by Jeff Domanski, Executive Director of Hudson Valley Energy: https://youtu.be/HOt35P5RDow
Power Point Presentation for the above CCA Webinar