Town of Clinton Recreation Department
What's New in Clinton Recreation? Check our flyers and upcoming calendar to see what we have planned!
*The Rec Committee meets on the last Monday of the month at 7:00 PM in the Town Hall meeting room. The public is invited to attend our meetings!
Recreation Director: Dan Harkenrider: 914-489-0962/ dan@townofclinton.com
Assistant Rec Director: Dawn Harkenrider: 914-466-5760 / clintonrec@townofclinton.com
2023 CURRENT EVENTS
Starting November 1, 2023 – The gate to Fran Mark Park will be closed and locked for the winter. See you next Spring!!
*  Our next Rec Meeting: Monday November 27, 2023  at 7 PM in the Town Hall. All are welcome!
Knitting Club News
* Come out and knit with friends! Meetings are held on the 2nd and 4th Wednesday of the month at Hummingbird Ranch.
Due to Thanksgiving the next meeting will be postponed to November 29th!

This Fall members attended several yarn festivals:

NYS Sheep and Wool Festival in Rhinebeck

Indie Untangled in Saugerties

Fiber Festival of New England in West Springfield, MA
* HIKING CANCELLED FOR 11/18/23 * 






Registration is OPEN
Return forms to the Town Clerk's office,
Attention: Dawn Harkenrider, Asst. Rec. Director
Bump it UP! Play Volleyball

---
---
2023 EVENTS:
 14TH ANNUAL BON FIRE AT FRAN MARK PARK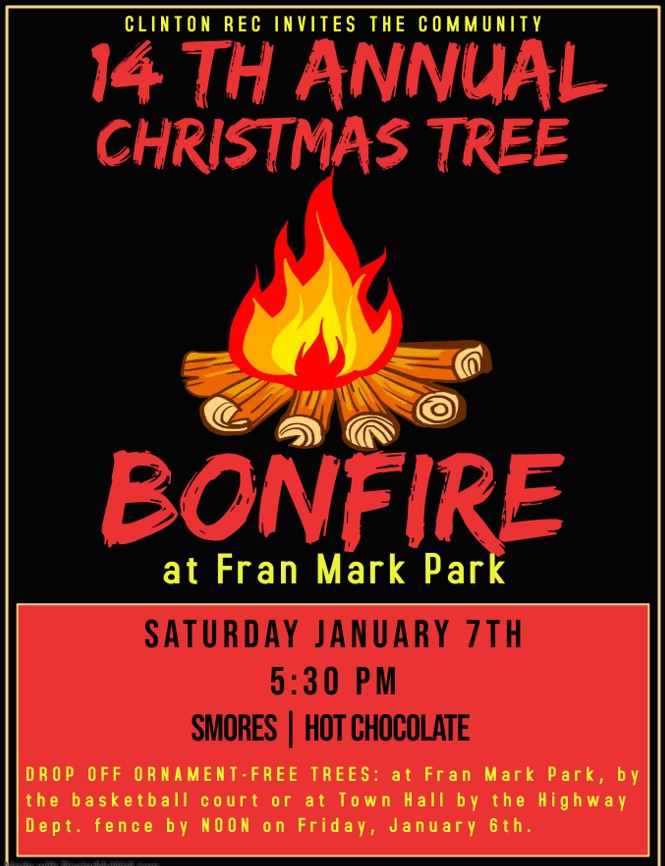 EASTER EGG HUNT WITH CVFD AT FRIENDS PARK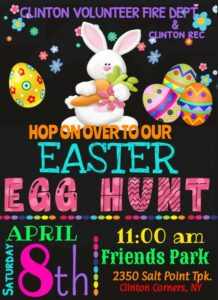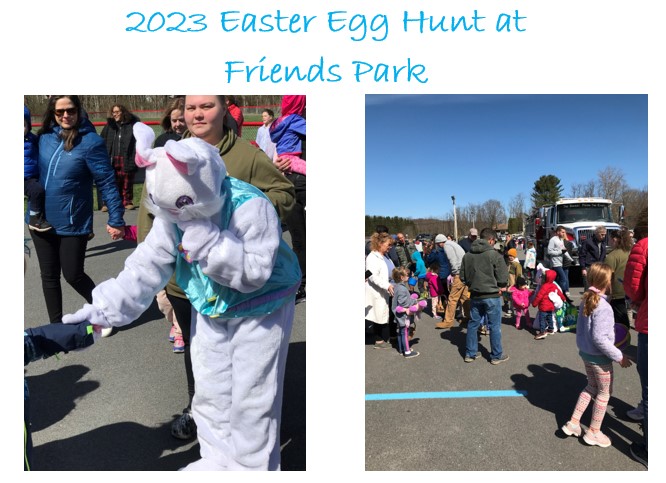 HANDS ONLY CPR
The Power Is In Your Hands
We are offering a SECOND FREE
half-hour workshop  MARCH 25TH
Hands-Only CPR is a technique that anyone can learn to perform to help a cardiac arrest victim stay alive until medical help can arrive.
Be prepared, sign up for this lifesaving half-hour workshop at the East Clinton Firehouse on March 25th.

---
2022 OUR YEAR IN REVIEW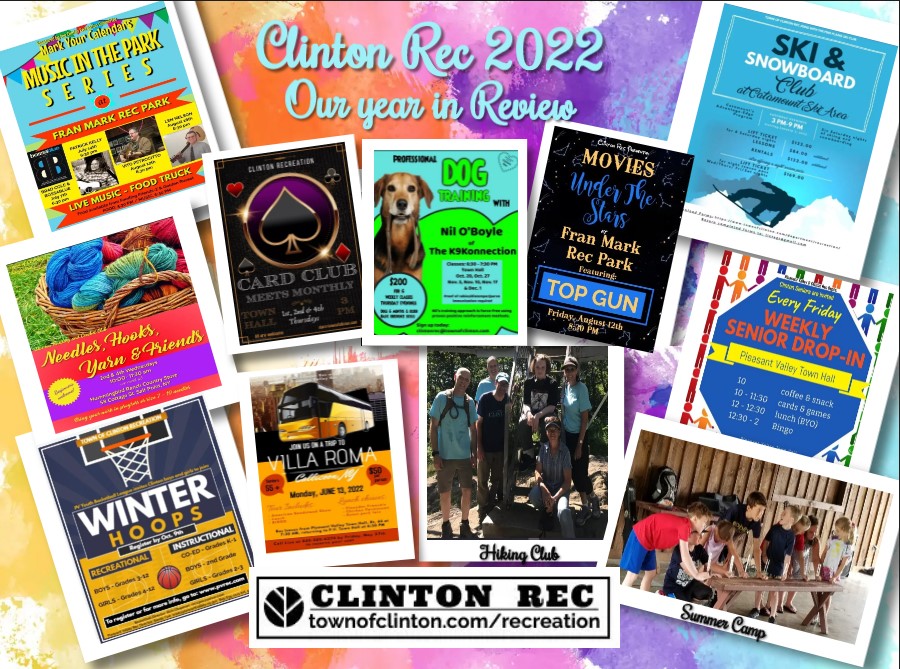 2022 Activities:

DOG OBEDIENCE GRADUATES: 
NIL O'BOYLE OF THE K9 KONNECTION will be back in the Spring with an Intermediate Class!
SOPHIE                               EMMA ROSE
BUDDY                                         MIDNIGHT
SKI CLUB. SEE YOU ON THE SLOPES!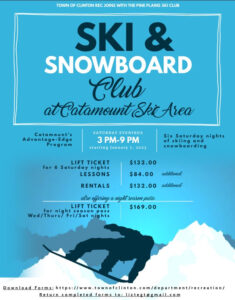 Ski Club at Catamount FORMS:
OUR FALL PROGRAMS:
Waivers for activities if required:
ADULT ACTIVITY WAIVER FORM
MINOR ACTIVITY WAIVER FORM
Activities:
KNITTING CLUB:
The Knitting and Crochet Club will meet the 2nd and 4th Wednesdays of the month at the Hummingbird Ranch Country Store starting April 13th. JOIN US: 2022 KNITTING CLUB SCHEDULE
Virtual Knitting Club: Wednesdays, 6 – 9 PM. Email Eileen Rowley for the Zoom Code: eileenrowley37@gmail.com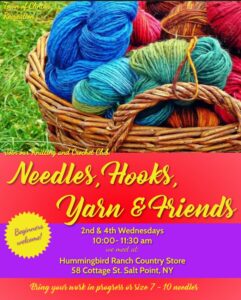 CARD CLUB:  ON HOLD FOR 2022
The Card Club meets the 1st, 2nd and 4th Thursdays at 3 PM in the Town Hall. This a relaxed group who gathers to socialize and play cards, sharing their favorite card games with each other. ON HOLD FOR THE SUMMER MONTHS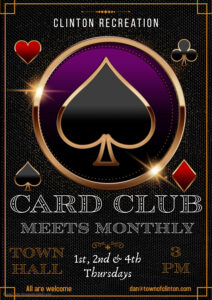 HIKING CLUB:
The Hiking Club will meet the 2nd Saturday of every month, April – October. The first three hikes are planned and are easy hikes. Join us: find the first three hiking destinations: 2022 SCHEDULE OF HIKES    NEXT HIKE: NUCLEAR LAKE
On July 9th, the hiking Club conquered Stissing Mountain,
PICTURE YOURSELF WITH US ON SEPTEMBER 10TH
BUS TRIP: JUNE 13TH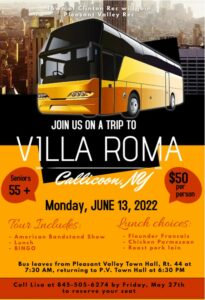 SENIOR EXERCISE CLASS- Seniors age 60 and over are welcome to join our Senior Exercise Class.  The classes are  held on Tuesdays & Thursdays 10-11 am at the Town Hall.  Doctor's permission is required.– Contact Lynnette Gibson 266-8170 for any questions.
FRAN MARK REC PARK: Will open on May 28th for swimming. The park is open daily. We are a carry in – carry out park.
Parks: 
Frances J. Mark Memorial Park (AKA Rec Park) – 337 Clinton Hollow Rd (also called County Route 18)  Phone 845-266-5740.  Pavilion with kitchen, grills, playground, baseball field, soccer, horseshoes, volleyball, swimming pond.
SUMMER CAMP will be offered
The Pavilion will be available for rent Schedule rentals with Rec Dir. Dan Harkenrider: dan@townofclinton.com
General Park Information:
The park closes at dusk.
To use the park, a town ID sticker is required.  The same ID sticker is used for trash at no additional fee.
Stickers are available for Town of Clinton residents at the Town Clerk's office: Mon – Thurs 9 am to 4:00 pm
The stickers cost is $10 (Seniors over 60 are not charged) for the first one and $5 for any additional sticker.  Call or email the Town Clerk's office if you need special arrangements to get your sticker, 266-5853, townclerk@townofclinton.com.

Stickers may also be received via the DROP BOX on the steps of the Town Hall for your convenience and contactless delivery.
Friends Park – 2350 Salt Point Turnpike- County Route 115. Baseball field, small pavilion area, tennis courts, soccer, basketball, playground.  The park closes at dusk.
In 2022, the Ice Rink is open for skating.
pavilion rental form 2022
Map for Town Parks
Directions to Town Parks

---
Taconic Little League and Softball – Registration forms can be accessed at www.taconiclittleleague.com or by calling (845) 234-1947.  For more information call 266-3618 or 758-1938.